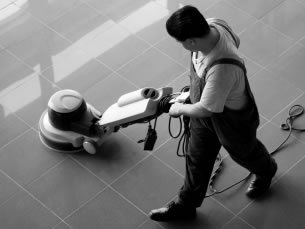 Commercial Floor Cleaning
Complete Floor Stripping, Buffing, Waxing, Sealing, and Refinishing for Linoleum, Vinyl, and Natural Stone Floors
Though vinyl, linoleum, and natural stone floors can be very durable, proper care and maintenance is necessary to preserve their resilience and luster. Executive Cleaning Company of Manchester, NH can perform stripping, refinishing, and sealing to completely restore your floors surface to their original condition.
Vinyl Floor Stripping, Sealing and Refinishing
Without proper care and maintenance, vinyl and linoleum flooring can lose their shine and luster. These types of floors can develop wax buildup and a yellow discoloration. This buildup greatly attracts other dirt which sticks to your floor like glue. Executive Cleaning Company can remove your floor's old sealer, apply the highest quality sealer, and buff your floor to renewed shine. This sealer and gloss shine will extend the life of floors, repel scratches and will protect your floors from soil penetration.
Natural Stone, Ceramic Tile and Grout Cleaning
Keep your natural stone, tile and grout looking their best with cleaning and sealing from Executive Cleaning Company. Let our professional refinishing team restore your granite, marble, limestone, slate, ceramic tile and grout to their original condition. Executive Cleaning Co. will clean and polish your stone—removing blemishes, oils and scratches—and will bring your floor back to its original shine
Trust your commercial carpet cleaning to the professionals at Executive Cleaning Company... More »
For more of information on our commercial floor cleaning services,
please request a free estimate or call 24 hours a day at
603-289-5181